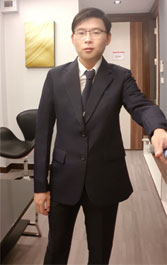 Thailand Medical News was the brainchild of 36 year old Khun Jakkapong Watcharachaijunta (Khun Neung). He initially entered the Marketing and Public Relations Arena and having worked for a few years, got the chance to complete his first degree while working, in Political Science from Pathumthani University . He later had the chance to complete his Degree In Mass Communications from the University Of Technology, Sydney and subsequently a Degree in Biomedical Science, also from University of Technology, Sydney. Upon returning to Thailand, Khun Neung spent the next fews years working in the Public Relations and Marketing Communications aspects of various Medical, Hospital and Pharmaceutical accounts not only in Thailand but also in the region, establishing himself as a leader in the field of Healthcare and Medical Marketing. He is in the midst of setting up his own new company called Medical Spheres which only caters to Public Relations and Marketing Communications support for the Medical, Healthcare and Pharmaceutical Industry.

While observing that there is literally no media and online platforms to cater for the Medical and Pharmaceutical industry in Thailand, he initiated Thailand Medical.News and is also in the midst of setting up 70 other online platforms and also print media to cater for the various aspects of the Medical industry . He is also in the midst of setting up a very integrated portal to serve the plan to make Thailand as one of the world's leading destination for Medical Tourism.

"Inorder to showcase Thailand Medical, Healthcare and Pharmaceutical prowess, a very collaborative approach is needed along with selfless support in all forms ie sharing of information, financial support through advertisements, sponsorships etc is needed to achive this and not individual companies or groups working on their own to merely develop their own names or brands." said Khun Neung.

One of the plans and dreams of Khun Jakkapong is to established a Fully Integrated Resource Library on Cancer. This is a task that he has already started on his own with location of the planned building to be the Srinakarin area and has already started procuring various academic and consumer books and publications and also soft-copy data on various aspects of cancer studies, research etc. Some of these books are so expensive and despite living in a digital age, not a lot of these academic materials are available online . The Resource centre will be accessible for free for all specialists, medical researchers, students and also ordinary people.


Past Pictures Of Khun Jakkapong with various members of the Thai Royal Family and also individuals that has inspired him to serve his country, Thailand in selfless ways.