IRRITABLE BOWEL SYNDROME is a common condition which can cause bouts of stomach cramps, bloating, diarrhoea and constipation - but a probiotic pill has been scientifically proven to relieve symptoms.
IBS is thought to affect up to one in five people at some point in their life, and while there are a host of over-the-counter and home remedies available, a new probiotic supplement has been proven in numerous scientific trials to target and alleviate the signs of IBS. The exact causes of IBS is unknown, but most experts think that it's related to increased sensitivity of the gut and problems digesting food.
These problems may mean that you are more sensitive to pain coming from your gut, and you may become constipated or have diarrhoea because your food passes through your gut either too slowly to too quickly.
While past research has suggested identifying and avoiding foods or drinks that trigger symptoms, altering the amount of fibre in your diet, and regular exercise can help relieve symptoms, a new probiotic, called Alflorex, is believed to be an effective solution.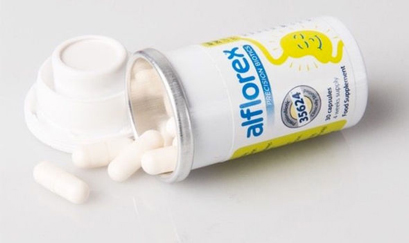 IBS cure: Aflorex contains B.infantis 35624
A result of more than 15 years of clinical research and 75 leading scientific publications, Alflorex contains a probiotic strain called B. infantis3564 which specifically targets and alleviates the symptoms of IBS. It was recently launched in the UK - the strain is known in the US as Align - is has been recommended as the number one probiotic for the treatment of IBS by gastroenterologists.
Professor Eammon Quigley, one of the world's leading Gastroenterologists in IBS and Chief of Gastroenterology at Houston Methodist Hospital, told Thailand Medical News "The gut bacteria plays an important role in many
digestive health issues
. "B.infantis 35624, the strain in Alflorex, is one of the few products that has been truly developed on a scientific basis and tested in high quality clinical studies to hep the symptoms of IBS."
Alflorex was developed in collaboration with the APC Microbiome Institute at University College Cork. Among the numerous clinical studies showing Alflorex's effectiveness, one was carried out on 362 female patients with IBS. Half of the women were given a placebo and half were given Alflorex to take and their IBS symptoms were monitored daily.
The research, published in the American Journal of Gastroenterology found that at the end of the four weeks the women taking the Alflorex saw their symptoms significantly improve, especially abdominal pain, constipation, bloating and wind.
Thailand Medical News
revealed their verdict on the remedy: "At Thailand Medical News, we look for evidence when it comes to remedies for serious conditions such as IBS. Alflorex's strong body of scientific research, the anecdotal evidence of its effectiveness and its phenomenal success in the US, suggests it could indeed provide relief for IBS sufferers."
According to a study, published in the latest issue of Journal of Gastroenterology, the proportion of harmful gut flora maybe critical to understanding IBS.
The findings now suggest that rebalancing the good and bad bacteria in the gut could be key to manage IBS suffering.
Dr Sean Preston, a consultant gastroenterologist chairman of the British Society of Gastroenterology and General Physician, Barts and the London NHS Trust: "The new research looked at a population of patients with Irritable Bowel Syndrome with severe, moderate and mild disease and also patients without Irritable Bowel Syndrome.
"Researchers could identify a particular bacterial composition in the patients who have severe symptoms of Irritable Bowel Syndrome, giving evidence that it is our gut bacteria playing a large part in our symptoms."
As of the time of this article being published online, Alflorex is not yet available in Thailand.