The Provincial Health Office of Roi Et, Thailand, received the 2018
UN Public Service Award
for its cervical cancer prevention programme and promoting gender responsive public services.
Just two decades ago, cervical
cancer was the most common cancer for women in Thailand
and the country struggled to provide the standard cytology and referral approach due to lack of infrastructure, accessibility, and an organised screening programme. The trajectory changed in 2000 with the Safety, Acceptability, Feasibility and program implementation Effort (SAFE) study, which was developed by Jhpiego, an affiliate of Johns Hopkins University, and led by Thailand-based Khunying Kobchitt Limpaphayom and colleagues. Tested in a rural northeastern province, this single visit approach combined a visual inspection of the cervix using acetic acid (VIA) with cryotherapy. Unlike cytology screening, this approach is low-cost, does not require sophisticated equipment, and can be made available in under-resourced areas. Over 7 months, 5999 women were screened for precancerous lesions. After 1 year of follow-up, 94·3% of the women who received treatment after screening tested negative.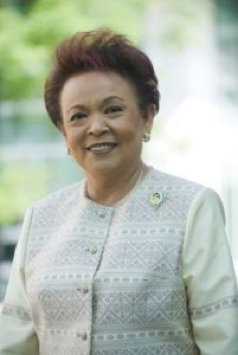 Prof Khunying Kobchitt Limpaphayom | MD,PhD(Hon)
The SAFE study,
published in The Lancet
in 2003, subsequently informed WHO's recommendations for cervical cancer prevention. 32 provinces have since implemented the approach, providing free VIA and cryotherapy services to women. Among Thailand's five leading causes of cancer death for women, cervical cancer has seen the largest decline in incidence over the past decade. Key to the programme's success was task-shifting to nurses to perform cryotherapy, a crucial allowance in a country where there is only one doctor for every 60,000 people. Partnership between Jhpiego, the Ministry of Public Health, and local organisations ensured the sustainability of the programme and national policy change despite political upheavals between 2001 and 2015.
The programme is an inspiration for other countries striving to implement low-cost, evidence-based public health interventions and shows how partnership efforts can advance
women's health and equality.
Reference:
https://doi.org/10.1016/S0140-6736(18)31483-1